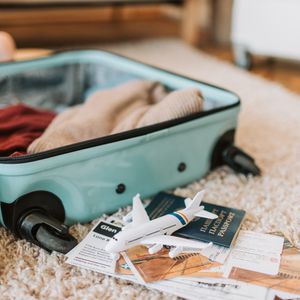 Once upon a time, flying internationally was a grand affair. Travelers would dress up in their finest, security checks were minimal, and sipping a sweet or alcoholic beverage while thick, leather and wooden trunks were loaded into the cargo hold was smooth, seamless, and relaxing (at least, for the passengers, lounging on board).
Then came a series of hijackings that created a real need for added security measures. 9/11 further intensified this need, and had passengers removing their shoes, and making sure their carry-on liquids remained under 100 ml in volume. Naturally, the lines for security checks - personal and baggage - began to lengthen, and, as the cost of fuel increased, so too did the ticket prices, leading airlines to reduce comforts on board, in an effort to meet travelers and their budgets mid-way.
More people, more processes, more time spent in the airport and on board the planes, before, during, and after each and every flight.
Frustrating? Yes, but doable. Passengers and airport staff learned to navigate this "new" status quo.
Then Covid-19 began to spread, geopolitical unrest began to rear its ugly head, pilots and airport staff became a rare commodity, and years of poor financial behavior finally led to a breaking point. This year, the aviation industry was hit harder than ever before, and everyone, especially travelers, are feeling the pain.
From healthcare crisis to airport crisis
The direct result of global lockdowns and stay-at-home orders was an inability for airports to carry on with business as usual. Passengers could not travel, making staffing airports, duty-free shops, and planes redundant. At the height of the pandemic and with tens of thousands of flights canceled on a regular basis, approximately 191,000 aviation employees were furloughed or fired in Europe alone, simply because there was nothing for them to do at work. And even though the world has opened its doors to travel once again, European airports continue to re-fill these positions, leading to one of the most extreme staffing shortages the industry has ever experienced.
This past June, close to 176,000 or 23% of scheduled flights experienced delays, and over 20,000 or 3% of flights were canceled altogether, due to understaffing. Reports across the world described long waits for security and customs checks, and record-breaking amounts of travelers arriving at their destinations, only to discover that their baggage didn't make it. Video footage on Israeli news broadcasts displayed rooms full of "lost" luggage just sitting there, as airline workers rifled through them and everyday citizens searched for their missing belongings, without much security or oversight ensuring the right suitcase made it to the right person.
New crisis, same old faulty infrastructure
While the main reason for the current crisis is, in fact, understaffing, it's really only the tip of the iceberg, when it comes to issues within the aviation industry. For years, social and economic challenges have created a "faulty" infrastructure within the industry. There simply isn't the budget - or the desire - to make the big changes the industry needs to recover from this crisis, return air travel to its former glory, and ensure that visiting the airport is a less stressful and more enjoyable experience, for travelers and employees alike.
The addition of a global pandemic and geo-political instabilities only reinforced aviation workers' beliefs that finding employment elsewhere is ideal. Without implementing drastic changes on an infrastructure level, airport and airplane staffing will likely remain suboptimal, prolonging flight delays/cancellations, and leaving passengers stranded without their luggage, at destinations around the world.
Innovation can help save the aviation industry
To resolve the crisis, new and innovative sectors are emerging. For instance, the Advanced Air Mobility (AAM) sector) seeks to utilize smaller planes for shorter distances (including unmanned aircraft for small cargo deliveries), and leverage autonomous controls and detection sensors, to make air travel more efficient. Solutions are also being developed to make travel to the airports and from the gates to the tarmac faster and more seamless, and biometric identification solutions are reducing the need for as many employees on the ground. There are already over 5,000 employees operating in this field, and the sector holds a market value of 11 billion dollars, making its implementation into traditional airports and aviation infrastructure, a promising direction.
Here, players from within the Aerospace and Low-tech industries are able to integrate their knowledge, experience, and expertise, to bring innovative infrastructure and solutions to the tired and outdated aviation industry. Of course, airports will have to adapt to a new "new normal" yet again. That said, opening their doors to new types of positions, in addition to the ones they already have to fill, will position the entire industry as more desirable to work in. What's more, these positions' actual integration will make those staff members who currently aren't returning from their Covid-induced distancing from the aviation industry, rethink their decisions to work elsewhere, and even vie for the (now reduced number of) positions to be filled.
Hunting for leadership to ensure successful innovation implementation
With new, innovative trends, comes a need for a change in perspective, as well as a bottom-up management approach. At Hunter, we understand that leadership is needed to drive any innovation from concept to concrete reality. We know that airlines and airports must ensure existing systems are made to be more efficient, and customer-facing conduct is made a top priority. Indeed, some airlines have managed to implement better communication and collaboration practices, course correcting when necessary to navigate change and survive, even during the height of the pandemic. As leaders of the recruitment space ourselves, we know exactly the kinds of relationships that need to be made, and across which industries, to match candidates and aviation companies, and help resolve the ongoing staffing crisis.
Ready for your airline to take flight with innovative solutions and unmatched leadership. Get ready to take off - contact Hunter to set up a meeting, today!